Gwenivere Eve Lovewell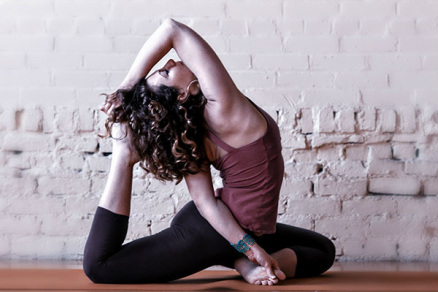 Gwenivere as of 2012 has over 3000 hrs in teaching yoga, people from all over the Boston area currently travel to study with her for her classes are multifaceted about life, yoga, alignment and created for the personalized advancement of each student's practice. You find yourself supported and empowered about every facet of your practice. She started her yoga education, over 10 years ago in 2002 after meeting her first teacher in Tucson, Arizona. From that point forward is was undeniable that she was indeed in love with the practice and what it has to offer and remind each person about themselves and theirs lives. She teaches warmhearted classes that bring awaking and potent currents of insight and she'll keep you challenged and invigorated in any pose while teaching greater alignment and personally advancing each student. Gwenivere works with the attendance of every class customizing it to fit the students needs and incorporates yoga therapeutics or modifications for students who need it. Her classes range from warm, challenging and invigorating, to slow, mindful, restorative and technically based. She loves the board scope of this practice and is big in applying yogic wisdom into our every day life. She's down to earth that we live real lives, and yoga is an aid in fully exploring, appreciating and enjoying it. Her biggest joy is seeing her students advance in their practices, and how bright and strong they become through their yoga studies with her and the lovely group of fellow yogis and practitioners that reside at Shiva Shakti Yoga Center.

---
Karen Weisbach
Karen was introduced to yoga in 2003 looking to try something different from a traditional gym workout. What she walked away with was an intense enthusiasm for asanas that granted her a strong physical practice and also introduced a sense of calm in her spirit that stayed with her long after she stopped sweating. Opportunities to incorporate music with movement drew her in further, reflecting a life's passion for dance and rhythm. Having practiced numerous styles, ranging from Bikram to Yin, Karen found her home in the fluid, breath-synchronized style of Vinyasa. She completed her 200-hour Radiant Yoga training with Chanel Luck and Bonnie Argo and has completed Reiki Levels 1 & 2 with Pat Iyer. Additionally, she was the lead assistant of the an Asana Assisting Team and works to create an open, supportive environment in her classes. Karen is indebted to Shiva Rea, Maria Garre, David Magone and Soni Anderson for their knowledge, insight and inspiration. She is deeply grateful to her community and continually learns from her teachers, students and family. Off the mat, Karen enjoys a glass of wine with her husband, a good book and long walks with her dog.


---