To see up to date online scheduling or register online for class..
Click Here
You can just show up for any class on this schedule.
Wear comfortable clothing, come hydrated.​
There is no need to register in advance.
Come 15-min before any class listed on the schedule to attend.
Bring your yoga mat otherwise we do have studio mats available here.
---
Summer 2016 Schedule.. This schedule begins July 2016

Our Studio Schedule.. All Classes are ALL LEVELS unless noted.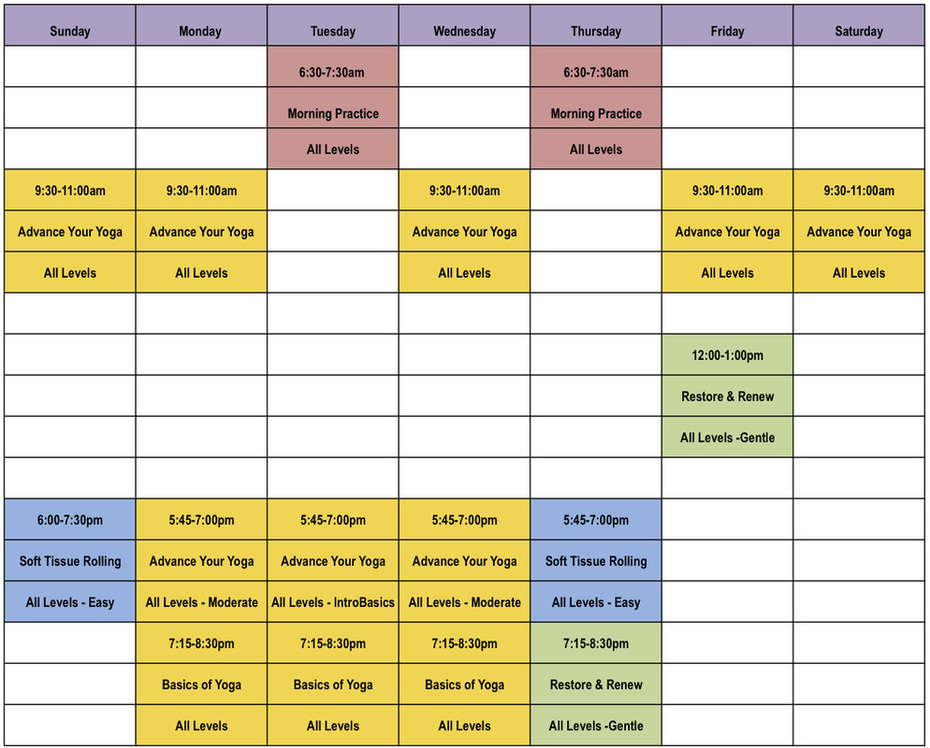 -You may fall in love with these sessions in your weekly rituals.

Morning Practice (All Levels) 60-min of Sweaty and Fun to kick start your day from the best version of you!!

Basics of Yoga (All Levels) A Class for all levels, for those who want step-by-step introduction, breathing, a practice that fits all levels of fitness ability. This is the BEST class to start with if you are just re-starting up your practice. It also is a developing class that you will be getting better in during each year practice.

Advance Your Yoga (All Levels) All-levels practice session, breathing, handstands, backbends, twists, and stronger postures will be in these sessions which are in addition to the Basics of Yoga classes, yet this class and all classes will always honor ALL LEVELS.The morning and evening series will be doable for even Beginner students!

Restore & Renew and/or Soft Tissue Rolling (All Levels –Most Gentle Practices -Easy) A class built to renew the practitioner for life and the week. Pain reduction is included in these sessions by working with Soft-Tissue Rolling, Trigger Point Release, Yoga Props, Gentle and Light Yoga Movements, Reiki, Breathing, and Miracle Balls to ease pain and release the holding of stress in the musculature and myofascial tissues. This is a stiffness-reducing regimen essential for active athletes, people of all ages, of any of those with Chronic Muscular or Joint Pain, and Yogis alike.